Sorry!
We are currently undergoing a major maintenance upgrade.
We apologize for the inconvenience and hope to be back up soon!
LIVESTREAM: The Art & Science of Sacred Geometry / A Two-Day, Randall Carlson Workshop For Only $72
AN INTRODUCTORY WORKSHOP w/ Randall Carlson on The Art & Science of Sacred Geometry. You will learn how to apply the secret knowledge of the ancients in this event, and, if you can make it to Nashville, buy tickets now - LIMITED IN-PERSON SEATING...
read more
Buy Workshop Now
VIDEO PAGE EMBED
LIVESTREAM & IN-PERSON OPTIONS BELOW:
When buying the livestream, consider adding the supplies so that you can partake in the drawing exercises at home!
Featured Products For This Video
Shop for the products you need/found in this video
Additional Information
Related links, images and relevant information involving this howtube video.
Art & Science of Sacred Geometry
A Special Livestream with Randall Carlson

Starts August 13-14, 2022
Get Your Livestream Tickets &
Supplies Delivered Early.
» IN-PERSON TICKET
___________________

EVENT OVERVIEW
Randall has introduced thousands of people to the methods, symbolism, philosophy, and mysteries of Sacred Geometry through his lectures, classes and workshops for over four decades. If you have wondered what defines "Sacred Geometry" – what it is and what it means – this comprehensive workshop will provide the key that permits you to unlock the door of the Ancient Temple, allowing you to glimpse a magnificent kingdom of beauty, harmony and cosmic intelligence. The journey begins with a point and a line. Join us via howtube LIVESTREAM from the comfort of your own home - August 13 and 14, Streaming LIVE from Nashville, Tennessee.

LIVESTREAM & CUSTOM COMPASS
You will notice an option to buy the Livestream with, or without, a custom compass. In geometry, the compass is clearly an important tool, and the one being sold with this Livestream has been designed by Randall and his trusted colleagues. Every feature of the compass has a specific reason for existing; using the Randall Carlson Custom Compass with this workshop will therefore give you the best experience as you follow along, reproducing the drawing exercises at home.

START HERE TO SECURE YOUR LIVESTREAM ACCESS
This Livestream workshop is the perfect starting point to begin your Sacred Geometry journey with Randall Carlson. During this event, through your howtube Livestream interface, you will be able to chat with other participants in real-time and pose questions to Randall. Begin by securing your livestream access first. CHOOSE AN OPTION BELOW TO ADD TO CART:
LIVESTREAM TICKET & CUSTOM COMPASS LIVESTREAM TICKET SOLO / NO COMPASS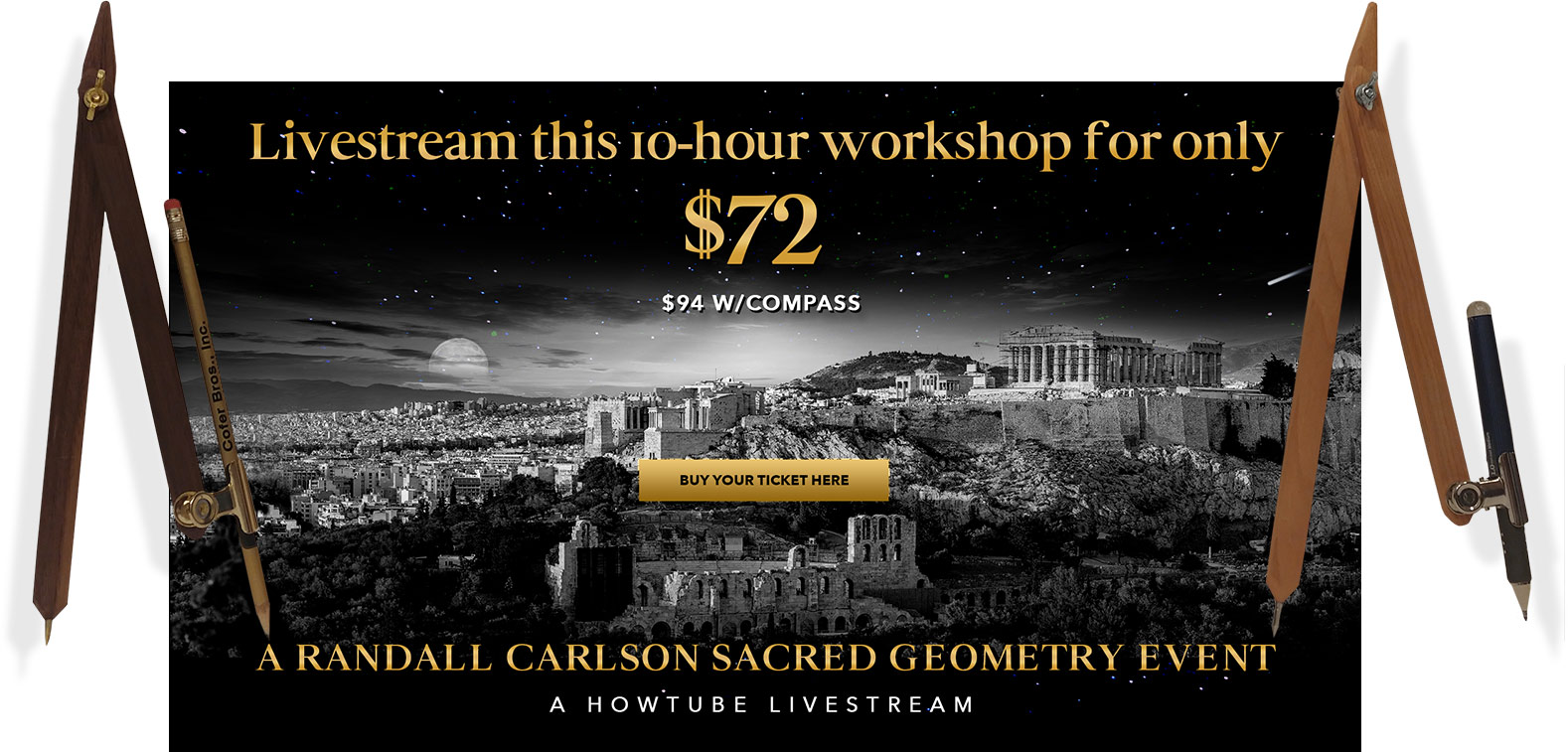 RANDALL HIGHLY RECOMMENDS GETTING THESE SUPPLES:
For those who wish to follow along at home and do the drawing exercises Randall teaches during this workshop, purchase these specific supplies » Click here for the Amazon bundle. With your custom compass in hand, and these supplies, you can partake in the drawing exercises from home. These are the exact tools used by Randall during the workshop and all of his Sacred Geometry students.
MORE ABOUT THIS LIVESTREAM WORKSHOP & THE ITINERARY
This introductory weekend workshop with Randall instructs the student in the basic methods of Sacred Geometry as taught in the classical tradition using only straight edge and compasses for drawing arcs and circles. With this knowledge, and these instruments, the methods of great artists and the Master Builders of old can be reproduced and easily applied to your work and life. Instruction starts with the basics and no special knowledge of math or geometry is required. All geometric operations that can be performed on paper using these two simple drawing tools can be replicated in the field using a staff and a "line stretched upon it." The knowledge obtained will provide you with powerful tools that you can use in your creative work. We hope you join us.
ITINERARY
Saturday August 13, 2022

8 - 9am / Breakfast On Site
9 - 11:30am / Workshop LIVE
11:30 - 1pm / Lunch Break
1 - 6pm / Workshop LIVE
6 - 6:30pm / Interviews w/ Attendees Streamed LIVE
6 - 7:30pm / Dinner For Attendees On Site.

Sunday August 14, 2022

8 - 9am / Breakfast On Site
9 - 11am / Workshop LIVE
11 - 12pm / Lunch
12:00 - 2pm / For in-person attendees, Randall will lead a tour of the Nashville Parthenon showing how Sacred Geometry principles are applied at FULL scale. Livestreamers will get a bonus video recording of these activities placed into their account following close of the

howtube

livestream. Note that filming is not allowed inside the Parthenon.
LIVESTREAM TICKET & CUSTOM COMPASS LIVESTREAM TICKET SOLO / NO COMPASS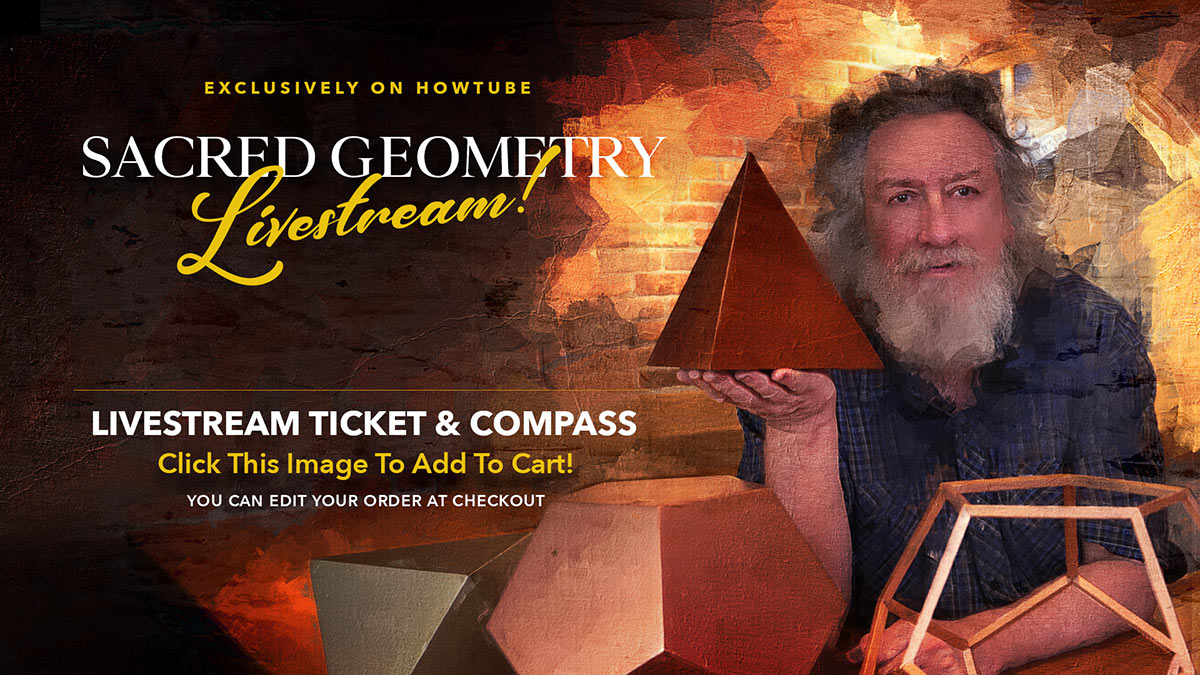 A PERSONAL INVITATION TO YOU FROM RANDALL CARLSON
Hello and greetings my friends and to all fellow seekers of knowledge. As a designer and builder by trade, I have always emphasized the practical applications of Sacred Geometry. Over four decades of teaching the subject has given me ample time to reflect on the most effective approach to instruction with a goal of attaining optimum comprehension and utilization of the system for our time. While the emphasis in my classes is on practical applications, the deeper philosophical, symbolical and metaphysical dimensions are what distinguishes Sacred Geometry from its more widely known Euclidean counterpart, so this aspect is not neglected. I therefore invite all artists, architects, builders, designers, craftspeople, homeschool educators, students, philosophers, metaphysicians or any creative, curious people in general, to join me for this very special livestream event. The insight you will obtain is sure to open your mind to new possibilities inherent in a long-overlooked system that you can employ to great benefit in your own creative work.
LIVESTREAM TICKET & CUSTOM COMPASS LIVESTREAM TICKET SOLO / NO COMPASS